The Understandable

Astronomy pages

Welcome to this educational site.
I will try to explain most things about stars, solar systems, planets the Big Bang, and our very own solar system in an easy and understandable way.
You'll also find a collection of pictures of the galaxy here.




If you already know the basic things about astronomy, there won't be much here you don't already know. But you still might like the pictures, so don't surf on too fast.

There are also links to other pages about astronomy that go deeper into the material.

For updates, join the mailing list.
Enter you email address 
and press join

Powered by ListBot


 

*** Updates *** Updates *** Updates ***
I've added the last pages of the planets' moons.
I've also made a few new sections, containing pictures of comets, other galaxies. The stars categorie now has information about our sun.

*** Next week *** Next Week ***
The Big bang, information about other galaxies and stars.

This page  will be updated regularly.

---


This page was created by C. Rodrigo on 16-08-1999
It was last updated on 09-11-1999

All the material on this pages is original, No text here has been copied in any way from a book or magazine, though my knowledge comes from books only.


This banner was supplied by SAFE Audit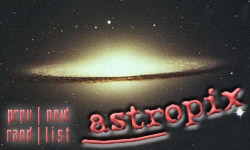 <!C-The Astronomy Web Ring HTML Fragment end -
Best Astronomy Sites Webring

This Best Astronomy Sites Webring site owned by Cas Rodrigo.

Want to join the ring? Click here!